About us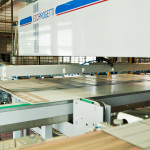 SPS istem srl is a reality specialized in the renewable energy field. Our company, based in Verona, was founded in 2005 when some of our partners decided to integrate glass building façades adding new photovoltaic systems to convert sun rays into electricity.
At the very beginning the company specialized in glass/glass pv technology. Following this successful start ,in 2007, SPS partners decided to enlarge SPS core business and started producing high efficiency polycrystalline photovoltaic modules.
In the second part of 2008 SPS istem srl moved to its new seat, where a 100Kwp photovoltaic system will be installed to produce the energy required by the plant.
Thanks to a brand new production line that increased SPS annual capacity to 50 Mwp, and to expanded facilities, SPSistem enters a new decisive phase of its development and is now able to satisfy all clients requests and to be more present both in Italian and European photovoltaic markets. Continue reading→
Blog
Before even the official start of summer, Italy's solar photovoltaic (PV) plants are meeting more than 10% of the nation's electricity demand, according to figures released by grid operator Terna (Rome). The nation's PV plants generated 2.68 terawatt-hours (TWh) of … Continue reading→